I got these really cute size 14 jeans on sale at Walmart. I thought to myself.
Size 18s are loose sorta on me. So what the heck
. . . . I might as well get them and make them my "Goal jeans". Ok... here is what the jeans look like hanging up.
So my weight is the lowest its been since I started this journey. I have been feeling real good about my progress. SO i figure I will try them on. AND take pics so we can see how far I have to go and how far I have come. Be warned this is not pretty. If you have recently eaten ... do not look any further...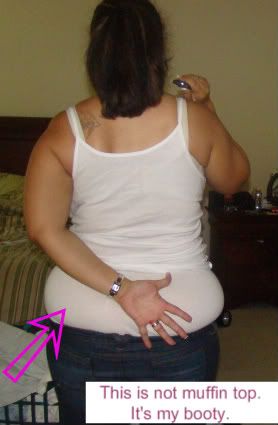 OK OK... You can stop laughing at any time. I will fit in these jeans before I turn 38. That is in Nov 2009. I think that is a reasonable goal. Maybe each month I should try these on again.
What do you think...?